NTUC MayDay Rally 2022
Hosting with Amira from NTUC
Awesome to have the opportunity to host NTUC MayDay Rally for the second year running. Tremendous to feel the energy from the crowd which consists of workers, unionists, organisations and tripartite partners.
PM Lee delivering his MayDay address
What a difference a year makes. Last year after the Rally, S'pore went into the P2H stage which was like a partial lockdown. One year later, we have relaxed measures where we could have an 800 pax live audience with masks on but no need for social distancing!! YEAH!
Every Worker Matters!
Truly a Majulah Singapura moment because only in Singapore can we have the unique Tripartite system where the government, the union and the business organisations come together to raise the wages, welfare and work prospects of workers in S'pore!
AIA Annual Agency Conference 2022
Toasting 1600 AIA Achievers
2 awesome nights at the Grand Ballroom of Marina Bay Sands to toast the achievements of 1600 AIA financial consultants. My first mass in person physical event after the relaxation of Covid SMM measures.
A sight to behold.. A sight for sore eyes!
This isn't the largest physical audience I have hosted by any means but after a 2 year hiatus of any physical F2F event, truly a sight to behold... a sight for sore eyes!
Singapore's Top emcee for live F2F events
With physical F2F events slowly coming back, Emcee Cyril is often the emcee of choice for many clients and event producers alike. Especially events that require audience interaction. Here I am in this photo with a satisfied event producer and friend, Silas Rabi.
RE:ACTIVATE - DJ Competition
Hosted the semi-finals of RE:ACTIVATE - DJ Competition
Wonderful initiative by IMC Live Global to revitalise the industry by organising specially curated events with live audiences, one of which is this DJ competition to which I had the pleasure of hosting.
DJ demo on an awesome stage @ SCAPE
Really wonderful to experience a proper full stage set up with LED screens, intelligent stage lighting, monitor speakers, etc. Have I told you that green screens are so passe! Hahaha!
Real live audience with real live djs
An invigorating experience not to say the least is to be able to interact with a physical live audience, speak with the judges on site in the venue and to interview the contestants live. Damn.. this is what living with a pandemic as done to us.
Red Hat Virtual SKO 2022
Back in a green screen studio for another Red Hat SKO
It is always fabulous to host an event I have hosted annually for close to 15 years. Truly hope next year I will be able to meet all the fantastic Red Hatters face to face at a physical SKO.
Studio setup for a virtual event
This is our view when we are hosting a virtual event. I am now in my element looking into a camera whilst checking the screens/monitors as a guide. However, I can't wait enough for the day when I can have unlimited physical interaction with the audience.. What about you?
Interviewing Red Hat APAC GM
Another aspect of any good emcee is the ability to connect with a guest and interview them. I had the pleasure of meeting and interviewing the new Red Hat APAC GM for this event.
Tokio Marine Singapore Agency Kick Off 2022
Energising the Tokio Marine team for the new year!
When you need a high energy emcee to lift the spirits and motivate your team for the challenges of the new year, Emcee Cyril is always the obvious choice!
Physical event with a live audience
Damn! It sure felt good having a physical audience with a proper backdrop behind me. Awesome to hear actual applause and see individual faces in my audience.
Online element still important
It is still equally important to engage the online audience as we had hundreds of financial advisers tuning in. Important for them to know that they are equally vital and kept in the loop.
SCB Asia Achievers Council 2021
Celebrating SCB's top performers in Asia
A virtual celebration of the achievements of SCB's best in class performers from 13 countries all over Asia. A cracking event with performances, a virtual tour to Moscow's Red Square and even some fun interactive games.
It takes a village to execute a virtual event
I don't say this enough but it truly takes an entire team to execute a virtual or hybrid event well. A lot more factors come into play that can make or break your event so its always best to have professionals who are at the top of their game helming your event.... someone like ME!!! Hahaha!
Green has never been so fashionable till now
Its amazing what technology can do these days with a simple green backdrop. I can be on land, underwater, in space, beamed to another country all with the touch of a button. But all this still can't hold a candle to a live F2F physical event. Just saying...
OTCi's hybrid graduation ceremony 2021
Hybrid event yet again
For the 2nd year running, this ceremony has gone hybrid because of the pandemic situation.
Board of governors attend event on site
OTCi's board of governors preside over event with their presence on stage to celebrate the achievements of the graduates.
Graduands attend online
A giant screen to capture OTCi's graduands and partners as they attend the ceremony virtually.
Avnet 100 years and counting
Hard@work engaging the virtual audience
Solid 2 hour virtual celebration filled with interactive games throughout. I must say I had a blast hosting this but by the end of the event, I was sweating buckets!!
Recording a dance tutorial video
One of the interactive elements of the virtual engagement was a mass dance contest between 3 teams. So I choreographed some simple dance steps to a funky song, recorded a tutorial and sent it to Avnet's staff prior to the virtual event.
Avnet 's staff rocks!
This is a screen capture of a sample of one of the teams dancing away with me leading and roaring them on! I must say the staff of Avnet were simply awesome as they were very sporting and spontaneous throughout.
Community Sports Appreciation 2021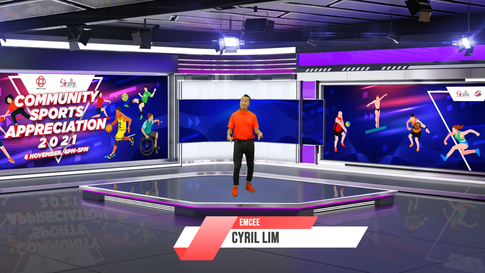 45th Anniversary of our Community Sports Clubs
Celebrating the 45th anniversary since the formation of our CSCs. 45 years of engaging residents young and old through community sports. Kudos to all our volunteers and participants through the years!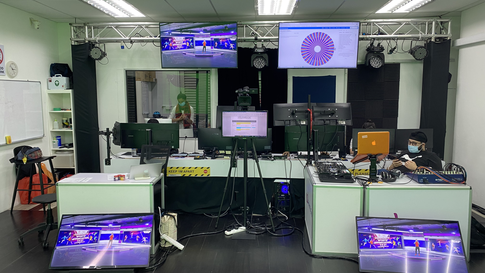 Another virtual event, another studio setup
The new norm where this is my view instead of a live audience. I have learnt to pivot by connecting with the virtual audience by looking at these monitors. Engaging them with my high energy levels whilst responding to their chats...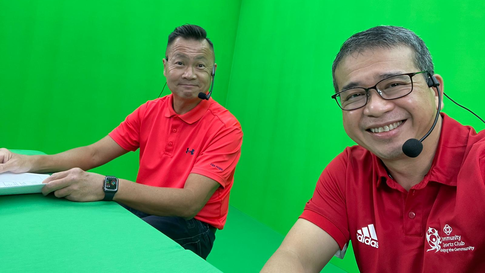 Hosting a segment with Minister Tong
Finally had the pleasure of meeting Minister Edwin Tong who is an old joe like me. Minister is clearly passionate about sports and how it bonds communities as he elaborated on the exciting new initiatives planned.
89th Tangs Founders Day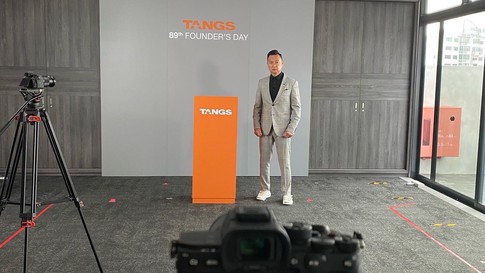 An iconic emcee for a Singapore icon
Back again to host Tangs Founders Day to celebrate annually the hardworking staff of our favourite department store.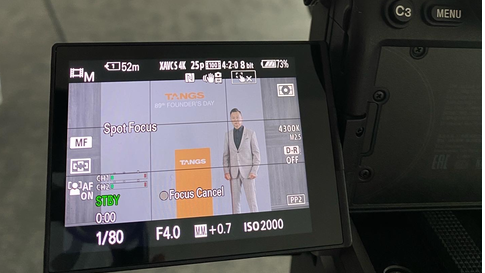 Video Recording of event
Because of Covid-19, the event was recorded to be played back to the staff.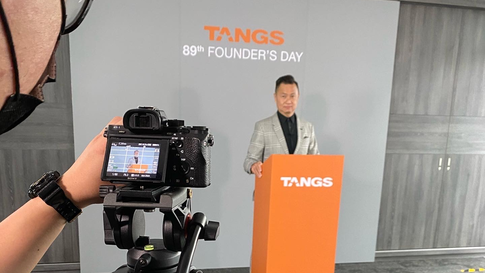 Only at Tangs
A testament of how well Tangs look after their employees when you celebrate service awards of 40 years and above! Almost unheard of these days!
Terumo celebrates 100th Anniversary with a Guinness World Record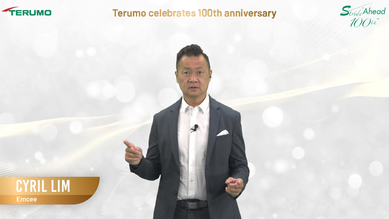 Hosting yet another virtual celebration
A rare screen shot of me with lower thirds hosting the Terumo Stride Ahead 100 virtual celebration. Normally I am too busy rehearsing or working to remember to take pic of this.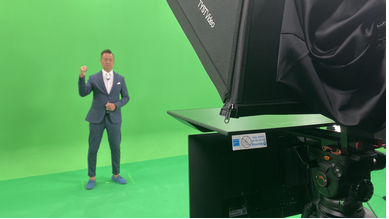 Yet another green screen studio
This really seems to be the norm these days for all virtual events. This must be the 8th studio I have been to in as many months. Nice to be able to work with a actual teleprompter this time around.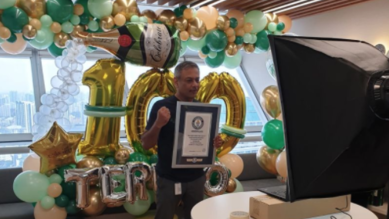 Terumo Asia Pacific sets a Guinness World Record
As part of their centennial virtual event celebration, Terumo Asia Pacific receives official confirmation of setting a Guinness World Record for the largest online video chain of people passing and using a thermometer. Well done Terumo!
Hosting the Launch of Epson SEA HQ and Solution Centres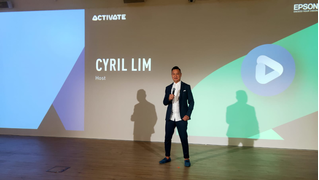 Hard at work rehearsing my lines.
The difference with hybrid or virtual events these days is that having a rehearsal the day before is almost certain. But this photo is a dry run on actual day... ;)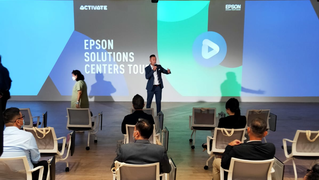 Hosting with a small live audience
So happy to be able to talk to a live audience finally. Let us all continue to take baby steps forward.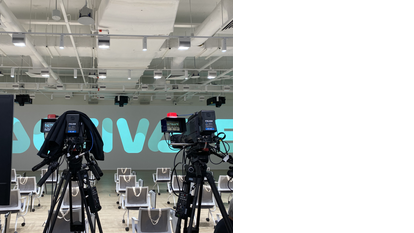 Epson SEA HQ and Solution Centres
Epson continues to lead the industry with their innovative solutions and sustainable technology on show at their SEA HQ and centre. A company that walks the talk when it comes to sustainabilty goals.
WFH virtual hosting duties for Citrix APJ Q3 Training Camp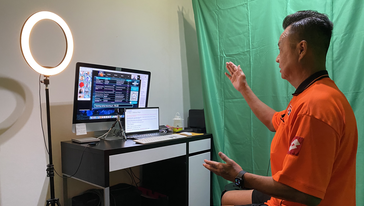 This is how an emcee WFH!
Only in a pandemic situation we find ourselves in am I able to actually host a virtual training camp to over 450 participants across many countries from the confines of my home.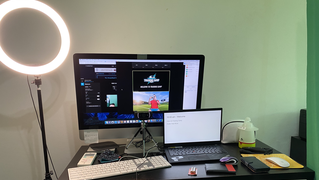 My humble home set up.
Equipment which I bought more than a year ago when I had no choice but to pivot to online hosting finally put to good use!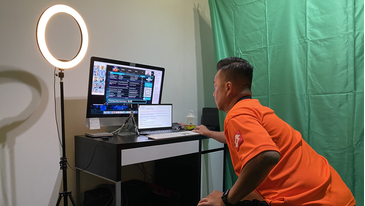 Organising virtual events are no easier than physical events.
It literally takes a village and different skillsets to organise an engaging virtual event. Always choose to hire the right professionals so that your event will run smoothly like this one!
NTUC National Day Observance Ceremony 2021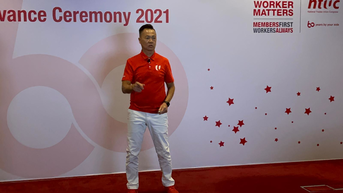 Happy National Day folks!
Happy to host NTUC NDOC virtually and meet the hardworking staff of NTUC. I am thankful for the work they did the past year to help all workers even freelancers like us. #everyworkermatters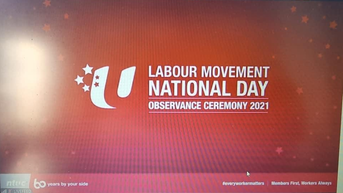 #EveryWorkerMatters
Extremely heartened to see our labour movement continue to grow strength to strength following the steps of their predecessors as we celebrate Singapore's National Day through unprecedented times of a pandemic.
My solid young co host teaching an old dog new tricks.
Had a blast working with my young co host Zoe who showed me how fun and dynamic the staff of NTUC are.. Was it weird that I had fun though I was the one that got TEKAN-DED? Hahaha!
Emcee duties at NTUC MayDay Rally 2021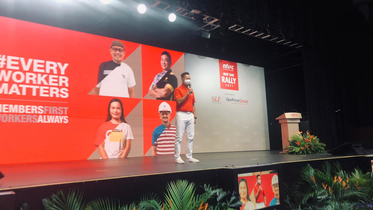 Hosting a hybrid event.
Awesome to be back on a physical stage hosting a hybrid event. Hybrid because there were attendees physically in the hall and virtual attendees joining digitally from home. So I had to engage the audience that were there physically as well as look into camera to engage the virtual participants!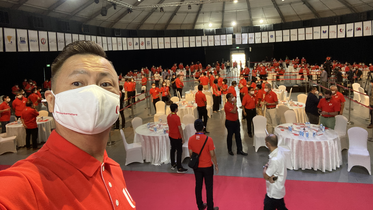 Stealing a wefie with physical audience.
This is the physical audience I had that day. Can you spot any of the ministers? They were all in their zones and were ushered in and out at different timings.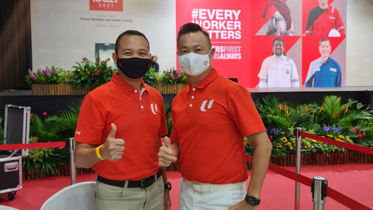 Met my MP who was my former cadet.
Truly happy to see this guy doing well. He is now MP of my ward in Marine Parade. My joke with him is that "once you had to call me SIR... but now i have to call you SIR!"
Virtual hosting duties for NDP21 sponsorship event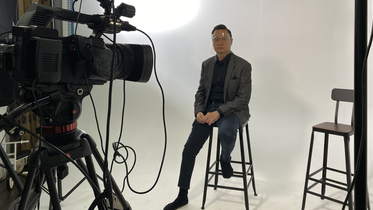 Hosting the event virtually.
Hosting an event virtually is totally different from hosting a physical event. You have to remember to look at the camera and limit your movements to areas where the camera can cover. I adjusted really quickly though and now, its like I have always hosted looking into camera ALL the time.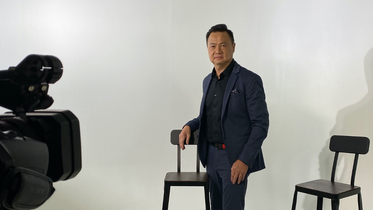 Photo of me trying to look COOL....
Hahaha.. this is what you have to do these days to get on the digital wave. Take such photos so that you can post them on IG, FB, your website, etc.. So there you go...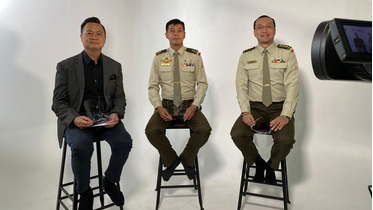 Together with the NDP21 executive committee
It was a pleasure to host this virtual sponsorship event for the NDP21 executive committee. Proud to be part of the Guards family as well. "Always Ready.... READY TO STRIKE!"
Hybrid hosting duties for OTC Institute graduation ceremony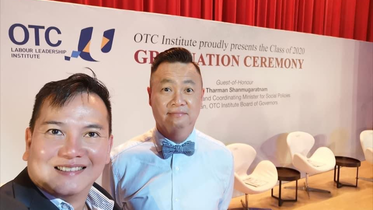 Obligatory photo with the EO boss.
Much thanks to Picasso Tan the owner of PIP for the event. Pic is a dear friend and one of my huge supporters.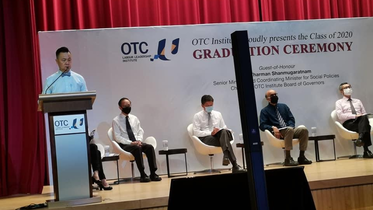 Hosting on stage with Minister and OTCi board of directors.
Hosting this hybrid event with VIPs on stage and all the graduates logging in online from home.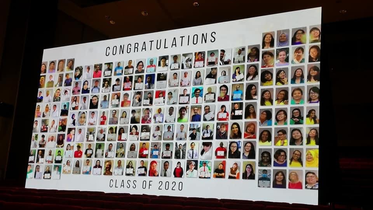 Virtual audience on zoom.
Engaging with the virtual audience at the end of event with a group screenshot of everyone.
Engaging the virtual audience @ TTS5 Awards Show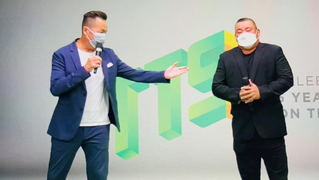 Together with Tower Transit Singapore MD.
Showing appreciation to public transport workers in TTS for their hard work with relevant awards.
Virtual emcee duties for FWD inaugural Virtual Summit XR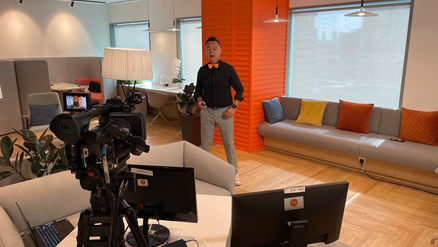 Energetic and dynamic virtual emcee.
Hosting live from Singapore with main production team in Hong Kong. An opportunity that is only possible because of the current pandemic situation coupled with broadcast streaming technology of today. It helps when your dynamic skill sets as an emcee are valued internationally.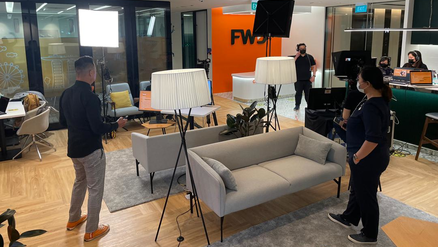 Hosting online from FWD Singapore's office lobby.
FWD Singapore's office lobby transformed into a 'pop up' studio by local AV professionals to facilitate and support FWD Virtual Summit produced by an outstanding team based out of Hong Kong.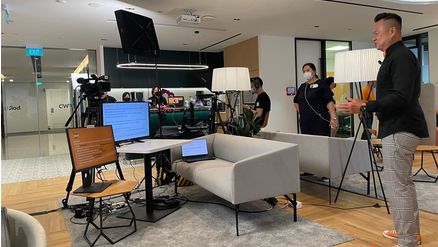 The show must go on...
To engage the online audience of over 2000 FWD advisers, I need to rely on several TV monitors so that I can refer to my script as well as see what the virtual audience sees to engage and interact with them.